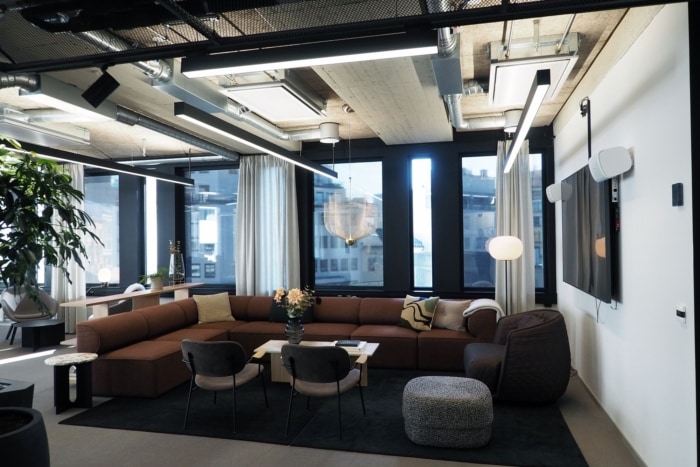 OSLO PENSJONSFORSIKRING (OPF) Offices – Oslo
Krohnark created a space to feel like home for employees at the OSLO PENSJONSFORSIKRING (OPF) offices in Oslo, Norway.
In the meeting with OPF, we quickly came to the conclusion that we should jointly design an office that the employees could come home to – "Home to OPF".

The idea of coming home to OPF developed during the pandemic. The home also became the workplace, and it became clear that many of the qualities we have in the home can be advantageously reflected in the office environment.

OPF's office is located in Trekantblokken, designed by Erling Viksjø. Through a process with builder Entra, Krohnark has created a basic structure for how the offices can be designed. It also became Krohnark's task to define the material palette for the general interior of the Triangle Block.

The basic palette of black, natural anodised aluminum and natural oak therefore also became the basis for OPF's interior. Together with OPF, we also quickly came to the conclusion that we wanted to play on the original architecture and the era the building is from, but at the same time introduce the personal and the little extra. This in the form of furniture with different idioms, varied textiles, several common functions such as a common "living room" for joint gatherings and, among other things, a shuffleboard that was given the function of a bar table. Pleasant kitchens where no one is the same in expression, but where everyone has the same starting point. Krohnark has also provided situations with comfortable lounge groups that help support the homely expression. By using varied colours, which you often have in a home, we have also created different atmospheres. In this way, the employees get different experiences and impressions as they move between different rooms. We think they enjoy this.

At OPF there is room for play, creativity, interaction and concentration work.
Design: Krohnark
Photography: Nichlas Hvesser