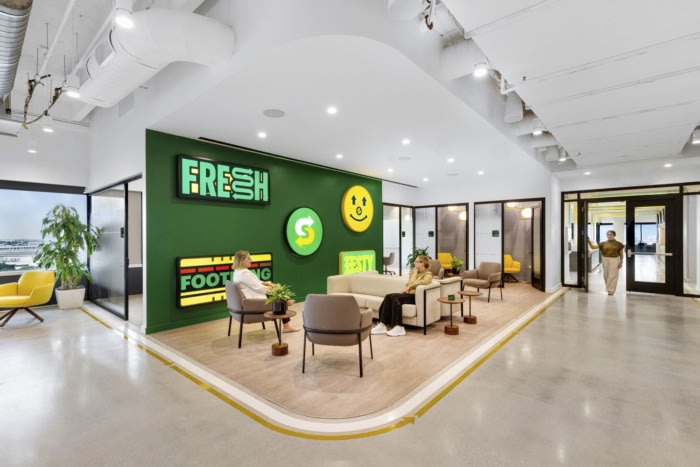 Subway Offices – Miami
HLW transformed Subway's Miami-based headquarters into a vibrant workspace, dividing it into six distinct "neighborhoods" inspired by Subway's brand and Miami's Art Deco design, incorporating custom graphics and signage throughout.
HLW was tasked with delivering a space with a strong brand identity for the Subway offices in Miami, Florida.
With an eye towards reinvigorating its workspace, Subway® engaged HLW to transform two-and-a-half floors of a corporate campus into the company's new, Miami-based Headquarters (the company maintains a second headquarters presence in Connecticut). Spanning 64,000 square feet, the HQ includes pantries and a cafeteria, training rooms, a fitness center, an executive suite, and an Innovation Center, in addition to open-concept workspaces outfitted with desking, phone booths, interstitial spaces for small-group work, and huddle rooms.

Drawing inspiration from Subway's emphasis on fresh flavor and Miami's Art Deco design history, the team subdivided the HQ into six "neighborhoods," named for different food adjectives, that are differentiated by sleek and playful graphic branding schemes. Each scheme brings the unique brand experience of Subway into every detail of the environment, such as backsplash tiling, custom lighting, and floor and window laminates. As users move through the space, the primary brand is peeled away and an entirely new visual style is introduced, showcasing Subway's colors, patterns, and ingredients intended to represent the global employee culture and the locale of Miami.
Design: HLW
Photography: Eileen M Escarda