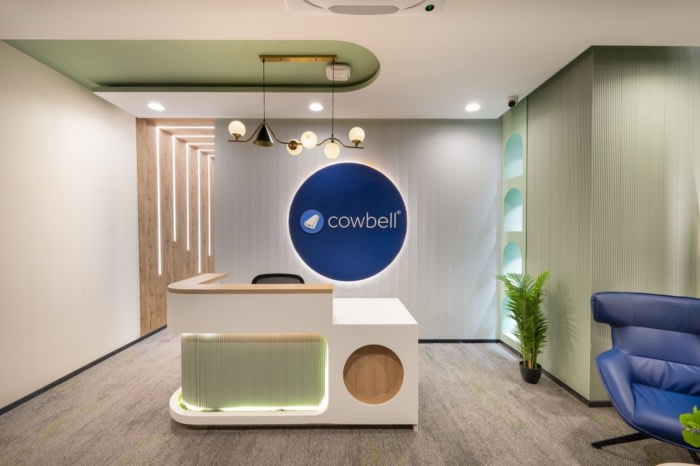 Cowbell Offices – Pune
Pinakiin Design created a colorful and welcoming space for the Cowbell offices in Pune, India.
Cowbell is a renowned cyber security company that has recently expanded its operations to India. With a strong focus on providing innovative and comprehensive cyber risk management solutions, Cowbell aims to protect organizations from evolving cyber threats. As a leading player in the industry, Cowbell offers cutting-edge technologies, threat intelligence, and proactive risk management strategies to safeguard its clients' sensitive data.

Pinakiin Designs is proud to present our recent commercial interior project for Cowbell's first office space in India, located in Pune. This turnkey project involved designing and building a 20,000 square feet office space that perfectly reflects Cowbell's corporate identity and embraces their vision of a collaborative and youthful work environment.

Understanding Cowbell's requirements, we focused on creating an open office concept with ample collaborative spaces to foster creativity, teamwork, and employee engagement.

The client specifically requested a nude pastel color scheme, which was incorporated throughout the office to create a calm and welcoming atmosphere.

The workstation layout was designed in a unique trapezium shape, maximizing both functionality and aesthetics. The modular furniture utilized in the workstations adds a touch of modernity and adaptability to the space. To ensure smooth movement and communication, we opted for an all-side circulation placement of workstations, promoting collaboration and easy access.

To meet the client's vision of a youthful office design, we created a vibrant collaboration area in a step sitting format. This layout encourages interaction and ideation among employees, providing a dynamic space for brainstorming and informal discussions.

Our design approach for Cowbell's office space aimed to reflect the company's dynamic and innovative nature. The youthful design elements, combined with the contemporary furniture and open layout, create an inspiring work environment for employees. The nude pastel color scheme adds a touch of sophistication while maintaining a visually pleasing aesthetic.

Pinakiin Designs takes immense pride in delivering a commercial interior project that fulfills Cowbell's vision for their first office space in India. By incorporating the desired open office concept, collaborative spaces, and the use of the nude pastel color scheme, we have successfully created an office environment that aligns with Cowbell's brand identity and encourages productivity and collaboration.
Design: Pinakiin Design
Photography: Yamini Krishna