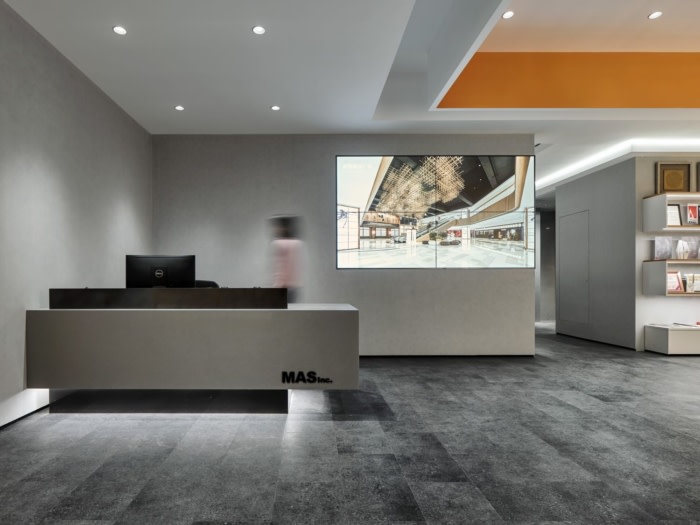 MAS Offices – Shanghai
MAS designed a sleek and sophisticated space for their team in Shanghai, China.
Source of inspiration
"Color palette" symbolizes new styles that mix together with different elements, forming an infinite and changeable scene in the limited space, making the space extend, and also making the space change to show the invisible integration of rationality and function, shaping an open, artistic and interesting environment.

Penetration
Spatial development perpetuates the MAS main tone of black, white, and gray, intersected with corporate color "orange". Simple geometric lines as design language, presents the open dynamic place spirit. Striving for accurate control at every sense of scale, not only to build an open working environment, which is good for staff communication and inspire them more creative thinking and inspiration, but also many flow freedom degrees are reserved in spatial planning.

Extend
In addition to function, scale and visual beauty, the planning further introduces acoustic and intelligent, weakens the material, reduces the fixed decoration, achieves the effect of lightweight, and then transforms into the main axis of space. The overall space is enlarged by visual penetrate, no matter from which angle around, there is an infinite extension of the effect.

Art
The geometric segmentation of the shade living room is inspired by Mondrian, abstract modeling and neutral colors to convey order; the space is connected with the tea room and the bar, which can be used as a space for employees or for group meetings. When holding activities, it can become a lecture hall that can accommodate up to 50 people, combined with acoustic planning and sound-absorbing plate, this area can be separated to greatly reduce the interference to the office space when holding lectures. Meeting room and telephone pattern, using the "human" perspective to make the dialog box to hide the space function.
Design: MAS
Design Team: Alex Chiang, Seven Chu, Abrasha Liu, Jack Zhang, Cara Cao, Wen Zhang
Photography: Siye Zhang