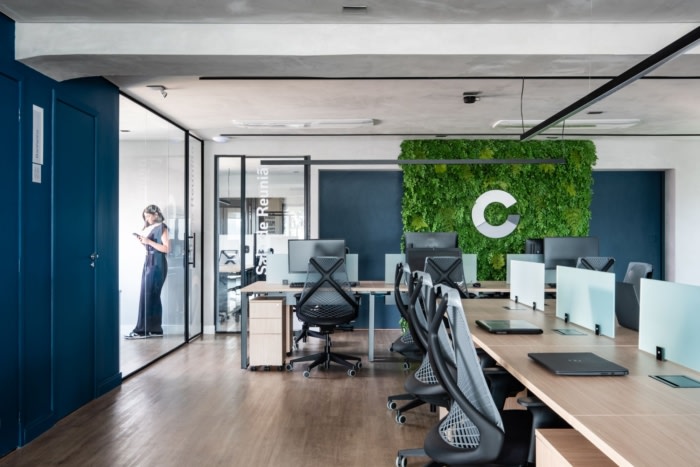 SCCAC Offices – Sao Paulo
Fantato Nitoli Arquitetura designed a professional and warm space for the SCCAC offices in Sao Paulo, Brazil.
The family business founded 44 years ago that operates as a consultancy and accounting management, hired Fantato Nitoli Arquitetura to redesign the company's style and create a more contemporary concept at the new address.

Fantato Nitoli Arquitetura designed an integrated open office for workstations with 32 seats. In the same space, he created a corner with lockers for employees to store their personal belongings, two meeting rooms, one large for 8 people and a boardroom. These rooms are private, but with glass walls, so that there is a visual interaction with the entire office.

The interaction is also evident in the coffee corner, which has become an "island" in the corporate space, with a table and upholstered benches, which can also be a place of decompression for employees and more unpretentious visitors.

The reception is the only room with a visual division in order to maintain privacy. For those waiting to be served, there is a timeline in this space telling the company's history. The historical reproduction was the client's own idea. Fantato Nitoli Arquitetura together with the graphic design office Duopo Design created the visual communication on the wall.

The typewriter is an accent piece at the front desk, and it's not just decorative. She was from the founder of the accounting office, which makes the company's history even more incredible. To highlight it, the architects colored it in a kind of "totem" with a granite base and glass closure, valuing it as a work of art.

The differential of this project was to combine technological innovations with contemporary architecture, creating a more current atmosphere. Among the innovations, the Alexa's system was used throughout the space (for the sound box) and Smart switches for light automation.

In the lighting project, overlapping LED profiles were used to create some designs on the ceiling, leaving a more industrial and modern look with some crown molding with indirect lighting and spots. But the highlight is the pendants (on top of the work tables), where in addition to emitting direct light on the tables, they also emit indirect light upwards on the ceiling, helping with the general lighting of the environment and making the space super cozy.

Corporate furniture has ergonomic features, especially chairs and armchairs to provide greater comfort to employees. The partitions between workstations are in etched glass.

To maintain the contemporary industrial climate, the walls and ceiling received Suvinil's burnt cement paint and some walls stood out in Coral's Prussian blue color. At the reception, one of the walls was covered with slatted MDF, bringing warmth and welcome to visitors.
Design: Fantato Nitoli Arquitetura
Photography: Nathalie Artaxo