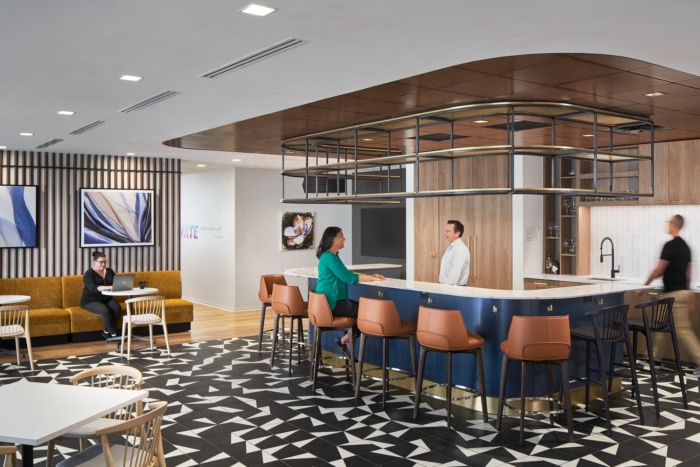 JLL Work Dynamics Offices – Atlanta
ASD | SKY collaborated with JLL to design the Work Dynamics offices in Atlanta, focusing on employee needs, collaboration, and incorporating a fresh look while following sustainable guidelines.
ASD | SKY completed the JLL Work Dynamics offices with a focus on employee needs and collaboration in Atlanta, Georgia.
ASD|SKY recently completed their most recent collaboration with JLL on a dedicated 'Work Dynamics' space within their Atlanta Office. Work Dynamics is an updated department within JLL that aligns internal experts with a specific market sector to improve each client's value and overall operational excellence for their projects.

The JLL Work Dynamics team worked closely with a Washington, D.C.-based architect to create three (3) different design 'blocks' to allow clients with a quick deadline to select a speculative suite-type option for their new project. Our team served as Architect of Record for the pre-designed 'blocks' themselves; and provided full design services to integrate these showcases into the JLL-branded office. The design team provided constant feedback on what did, and didn't, work per each 'block,' allowing for real-time improvements and downstream success for subsequent AOR's. Subsequently, ASD|SKY's graphic design team, SKY, graphically annotated each different block type ensuring each option stood out within its new showcase space.

Working within the guidelines of JLL's global workplace standards, ASD|SKY interpreted a contextual design that seamlessly adds the new 'blocks' into their office while also incorporating a fresh look throughout. The design also prioritizes improved functionality of specialized presentation spaces.

This renovation project included an additional work/social hub for JLL's internal use on the 14th floor. With enhanced meeting rooms, offices, reception/showcase space, and open work areas, this new hub also includes designated spaces for focused work to counterbalance the dense open-office environment.

Materials were woven throughout the spaces to break up the barriers of a potentially rigid program. Defined public space melds into dedicated office spaces, allowing for cross collaboration to occur naturally. The final result is a colorful, inviting space with a subtle branding approach that amplifies JLL's new design "blocks" showcase, while continuing their long-standing sustainability messaging. The floor this department was renovated on, was also on a LEED/ WELL floor, previously renovated and brought to those standards by ASD|SKY, so this project also had to follow the same guidelines and commissioning in order to keep the company's/ floor's LEED V2 Gold & WELL Silver standings.
Design: ASD | SKY
Contractor: Humphries & Co.
Photography: Garey Gomez