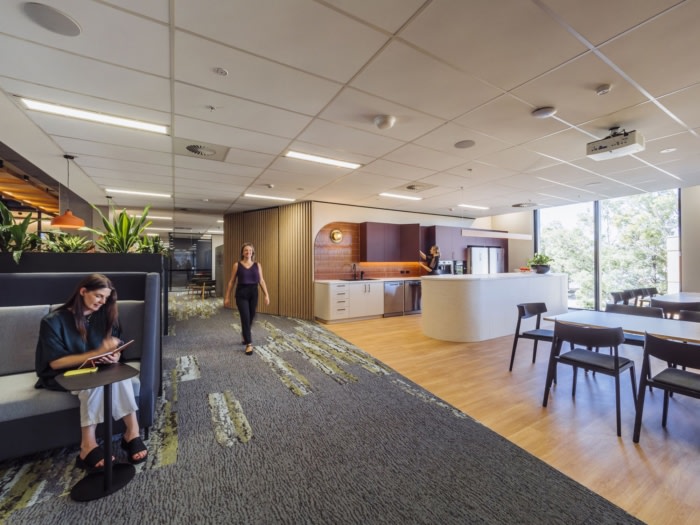 J. Wyndham Prince (JWP) Offices – Sydney
PMG Group designed the J. Wyndham Prince (JWP) offices with a natural flow for the space in Sydney, Australia.
When J. Wyndham Prince (JWP), a renowned civil engineering and project management consultancy based in Sydney, embarked on the journey to consolidate their two separate locations into a single cohesive workplace, they faced a significant challenge. They engaged PMG Group to create an environment that not only brought their teams together but also fostered collaboration, productivity, and an enhanced client experience.

JWP's primary goal was clear: they wanted a workplace that would not only reflect their social culture but also actively encourage staff collaboration. The design needed to be more than just aesthetically pleasing; it had to support staff interaction and empower them to perform at their best. To meet this objective, the new office space was carefully planned to include strategically positioned breakout areas. These spaces were conceived for staff to gather, fostering a sense of unity and serving as venues for large staff townhall meetings. The design also incorporated a diverse range of private and informal meeting spaces to encourage collaboration while respecting the need for privacy.

In recognition of the indispensable role of technology in modern workplaces, JWP's new office embraced user-friendly tech solutions. This ensured that staff could connect seamlessly, regardless of whether they were in the office or working remotely. This inclusive approach to technology made meetings and collaboration efficient and accessible.

The design took inspiration from the indigenous Dharug land on which the new office was situated, resulting in an earthy, organic aesthetic that radiated an inviting and calming atmosphere. This intentional warmth and collaborative spirit were enhanced by the incorporation of organic patterns, raw textures, and vibrant colors, creating a striking contrast with the natural elements. This approach harmoniously blended tradition with modernity, offering a unique ambiance.

Furthermore, the final design skillfully balanced functionality with an open-plan layout conducive to collaboration, while still honoring the necessity for private spaces. Combining influences from the local landscape, indigenous artwork, and JWP's rich history, the design seamlessly incorporated feature carpets, wallpaper and artwork.

PMG's journey to create a unified and engaging Sydney office for JWP demonstrates the power of effective project delivery. By combining thoughtful design solutions, strategically planned collaboration spaces, and seamless technology integration, they achieved a workplace that embodies their values and drives positive outcomes. The transformation of J. Wyndham Prince's workplace resulted in an engaging and fit-for-purpose environment that successfully united staff, fostered collaboration, and boosted productivity. The new office is a testament to the potential of thoughtful workplace design to transform an organisation.
Design: PMG Group
Photography: Matthew Longden