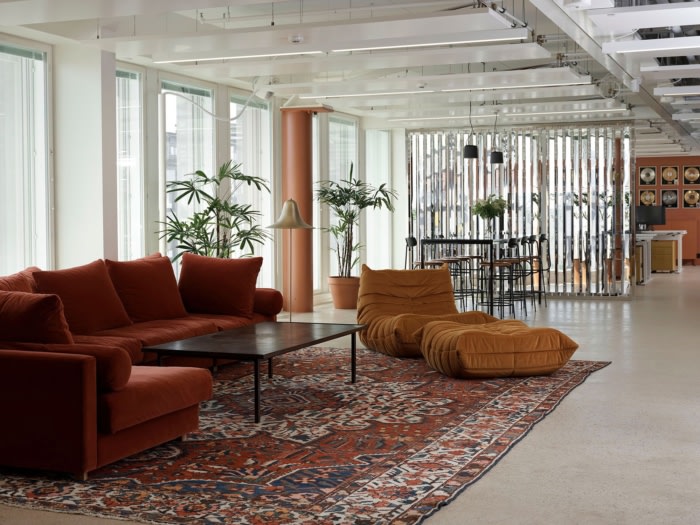 Universal Music Finland Offices – Helsinki
KOKO3 designed Universal Music's offices in Helsinki with warm tones, sophistication, and natural light, incorporating existing furniture and a relaxed atmosphere with slatted walnut screens for division and storage.
KOKO3 designed the Universal Music Finland offices with warm tones and sophistication for their space in Helsinki, Finland.
Universal Music Finland's new office in Siltasaari soaks in natural light. The new office was a blank canvas, with full-height windows running along both sides of the open-plan space. The new spatial solutions and room divisions were tailored to Universal Music's needs. The heart of the space is the kitchen and lounge area, where a relaxed atmosphere greets visitors and employees alike. Separated from the work area by a mirror-surface space divider, the lounge also serves as an event and performance space when needed.

Existing furniture was widely used in the new office, with a few new pieces added to the mix. The existing color palette and retro feel continue throughout the interiors. Slatted walnut screens create natural divisions in the open-plan office and help hide various storage solutions. The overall feel is relaxed and bold, reflecting Universal Music's ethos and values. The views over the Hakaniemi and Siltasaari rooftops serve as the icing on the cake.
Design: KOKO3
Photography: Riikka Kantinkoski