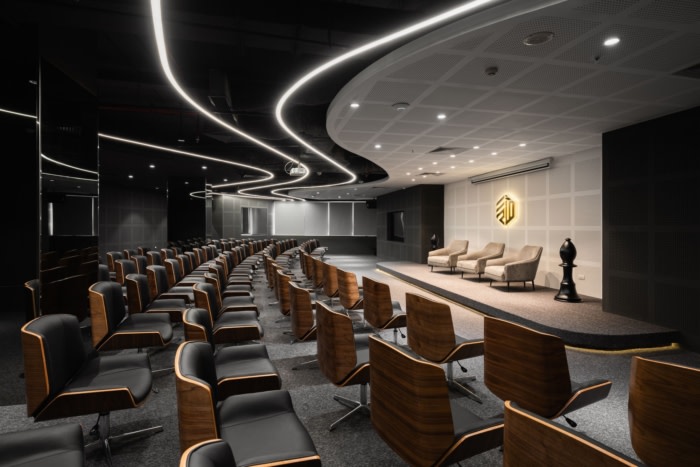 MRD Connect Offices – Hanoi
DPLUS VIETNAM utilized a minimal and modern design when completing the offices for MRD Connect located in Hanoi, Vietnam.
"If we assume every business is a cathedral, the people working in that space will share the same beliefs, ideals and value systems." – MRD Connect

At MRD, their mission is to help businesses develop a sustainable corporate culture system that is both humane and effective. To achieve this, we have built a platform that serves as a hub of knowledge and resources for like-minded administrators who are passionate about implementing the right management philosophy. We hope that this platform will become a "cathedral" of sorts, where individuals can come together to share insights, learn from one another, and spread happiness throughout the workplace. We firmly believe that businesses can achieve long-term growth and success by fostering a positive and supportive corporate culture.

Design Style
Consistent in contrast when combining modern design style with classic style. In a modern, new, and trendy space, the classic element appears as a distinct highlight, bringing sensory transitions to those experiencing the space.

The main color tones of black, gray, and brown… combined with yellow metal details, create a mysterious and powerful space. In addition, the use of high-quality materials such as leather, stone, and wood… along with sophisticated and meticulous details typical of classic design style also helps create a luxurious and noble space.

Detail
In the reception hall, we have these large mirrors that create a feeling of reflection. It's a beautiful sight as people walk by and stop momentarily to gaze into themselves. It's almost like a purification ritual or a chance for introspection. The ceiling is lowered and intricately designed with slight curves and symmetry, which adds an extra level of formality and uniqueness to the space. Chairman Mai Xuan Dat once said that it reminds him of a cathedral.

The sound-absorbing wall and ceiling system is used as an acoustic solution while ensuring the conference space has a background with enough design details. Combined with the curved ceiling light system, which is likened to the flow of knowledge in the large conference room space, making the space more flexible and softer.
Design: DPLUS VIETNAM
Photography: Luu Quang Minh