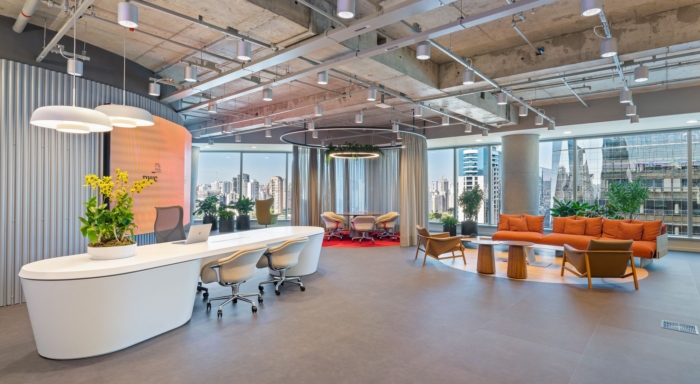 PwC Offices – Sao Paulo
Athié Wohnrath designed PwC offices in Sao Paulo with a focus on creating a flexible and collaborative workspace that incorporates natural light, biophilic design, and innovative technology.
Athié Wohnrath designed the PwC offices with natural light and a welcoming sophistication in Sao Paulo, Brazil.
The project was developed to play the role of a tool in transforming PwC's work dynamics, enabling a more organic and horizontal occupation, bringing more transparency and multiple uses to spaces that were once symbols of hierarchy within the company's organization.

All work areas are permeated with various typologies, aiming to allow focused or collaborative work, always with quality and ensuring the necessary resources.

Areas for high concentration work were arranged on both floors with a completely differentiated ambiance, featuring a strong presence of biophilic design, not only bringing nature into the office but also, through the choice of materials, providing a refuge from the dynamics and bustle of employees' daily routines, like a "balcony" within the indoor space.

The squad areas are also very relevant: they are entirely flexible, allowing teams to group for high-performance group work or the merging of these spaces for larger dynamics. It's a permissive space that encourages employee ownership and fosters creativity and innovation.

The variation in typologies is also present in enclosed rooms. For example, individual partner offices were eliminated and replaced with flexible spaces accommodating meetings of up to 4 people. The executive committee space itself features a completely innovative layout, allowing people to gather around a central space, with the capacity to host visitors for larger meetings and dynamic discussions. Equipped with 360° multimedia capabilities, it is also ideal for hybrid meetings with a large audience.

In addition to these environments, meeting rooms also offer various alternatives, such as rooms that integrate with flexible furniture, height-adjustable tables for more dynamic meetings, and finally, a studio that reflects the company's digital era, constantly generating content for dissemination.

A work café, equipped with various options for employees' break times, connects to a central circulation area that provides digital access to PwC's content, becoming an immersive tunnel.

This digital expression of the brand was one of the key pillars of the project's concept. In the area designated for receiving visitors, the arrival point in a large lounge features a curved LED screen surrounded by a metallic element that encloses an isolated experience space for unique client presentations. It is also equipped with another LED screen that covers the entire room and a touchscreen monitor for interactive moments. This room can be opened and integrated with the collaborative space adjacent to the arrival lounge, allowing for events for a larger audience.

Both the visual communication and floor coverings create a sense of dynamism and transformation, serving as fundamental elements to compose the setting with comfort and hospitality.

With flexibility, adaptability, technology, and connectivity, the space reflects the new phase in PwC's journey and how the company prepares for the future.
Design: Athié Wohnrath
Photography: Douglas Costanzo