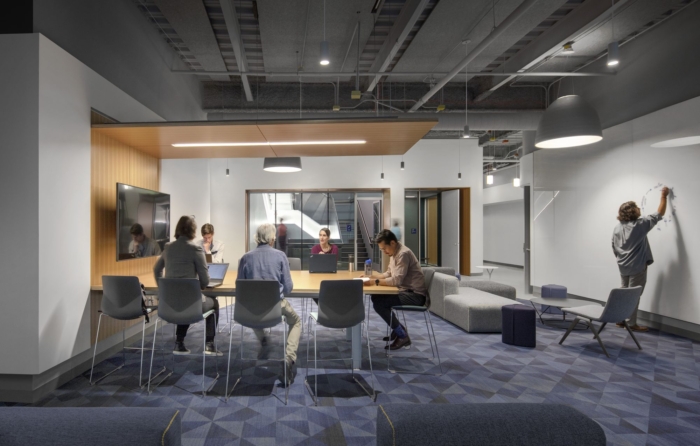 Adaptive Biotechnologies Offices – Seattle
Flad Architects designed a new four-story office headquarters and laboratory as a workshop for ideas for Adaptive Biotechnologies in Seattle, Washington.
Adaptive Biotechnologies is a commercial-stage biotechnology company focused on harnessing the inherent biology of the adaptive immune system to transform the diagnosis and treatment of disease. In the midst of significant growth, Adaptive sought to move to a larger space within Seattle's South Lake Union neighborhood.

The company's co-founders proposed a new operational definition for a science headquarters as a workshop for ideas, eschewing traditional work and lab space in favor of an innovative center that advances learning and culture first. Adaptive worked with Flad to design a new four-story, 98,400-square-foot headquarters and laboratory that expands the company's footprint in pursuit of revolutionary diagnostics and therapeutics.

The design sparks interaction across disciplines to facilitate breakthroughs in detecting and treating cancers, auto-immune disorders, COVID-19, and other infectious diseases. A monumental tile stair outside the building artfully explains how Adaptive is advancing research, and visitors are welcomed into the building with a glass ribbon wall that showcases exhibits explaining the adaptive immune system, which forms the cornerstone of Adaptive's science.

Myriad design features help promote culture and well-being. The design team created three science parlors adjacent to research lab spaces that give colleagues the opportunity to converse and collaborate. Formerly unused roof space now features a terrace with views over Lake Union, providing informal gathering space. A signature raw steel stair connects all levels of the building, and floor and roof openings connect parlor spaces to the floor above and to the sky beyond.
Design: Flad Architects
Photography: Bill Timmerman