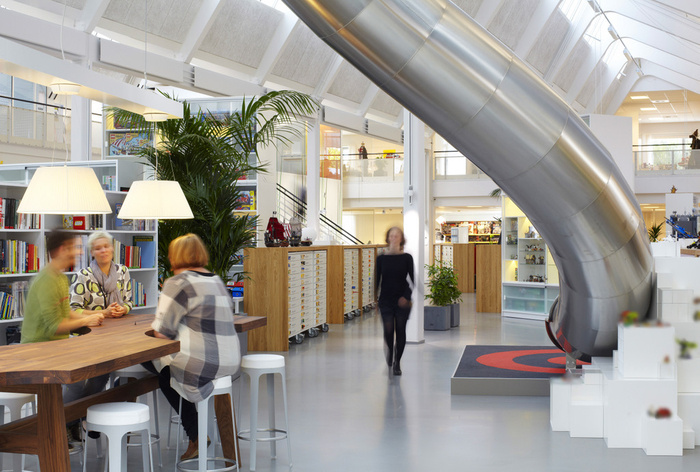 LEGO Denmark Office – Version 2.0
This morning we showed off a few shots of LEGO's space in Denmark, but this afternoon we are lucky enough to have images from another section of the facility. Designed by Rosan Bosch, the space has much more of what you'd expect: LEGO.
Located in Billund, Denmark, the office was designed with values like 'fun', 'unity', 'creativity', 'innovation', 'imagination', and 'sustainability' in mind.  After all, working at LEGO should be fun, and creating an environment where all of these ideas intersect is an important goal.
The architect describes one way of making the environment interesting using scale:
"The idea of scale is challenged with design elements such as huge grass wall graphics and a giant LEGO man and tables with built-in bonsai gardens, thus playing with perception and scale – who is big and who is small? Where does work stop and imagination start?"
LEGO's layout allows for collaboration and informal meeting in the center of the building, but allows for more focused, individual work on the perimeter. The office is also bathed in sunlight which is perfect for a creative environment. On top of that, the space boasts a large slide making it both fun and easy to head to the collaboration areas.
Photos by Anders Sune Berg