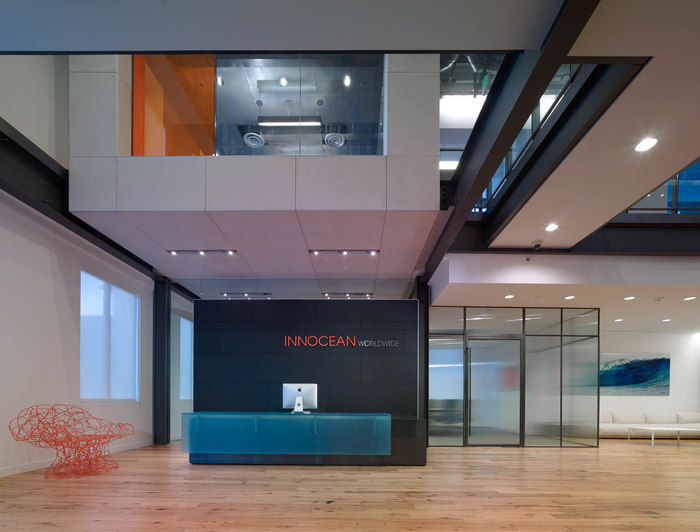 Innocean Worldwide – Huntington Beach Offices
Shubin + Donaldson Architects has developed a new office space for global advertising agency Innocean Worldwide. We previously looked at their European Headquarters.
Located across the street from the Huntington Beach Pier, it was important to INNOCEAN that their space reflects the vibe of the beach, but without it being a kitschy "beach town". As well, a balance of aesthetics had to be achieved between the executive team who preferred a clean, minimalist design versus the creative team that was looking for a more rustic, earthy feel to their space. At face value, it could be said that those to ideas could not coexist, but we took it as a design opportunity.

The result is a highly textured mosaic of materiality and massing. Details are crisp and clean while geometries are varied and involved. A double height reception area was carved out of the 2 floors of the building to create sense of arrival, but also to allow for a visual connection within the entire agency. The best views from the space to the ocean were given to the communal gathering area which consists of flexible meeting rooms, media lounge, and kitchen complete with in-house barista.

INNOCEAN is place to foster thinking, to create, to work. As well, it is a place to meet, to eat, to live. A sophisticated and elegant design that makes sure it doesn't take itself too seriously.
Design: Shubin + Donaldson Architects
Photography: Benny Chan