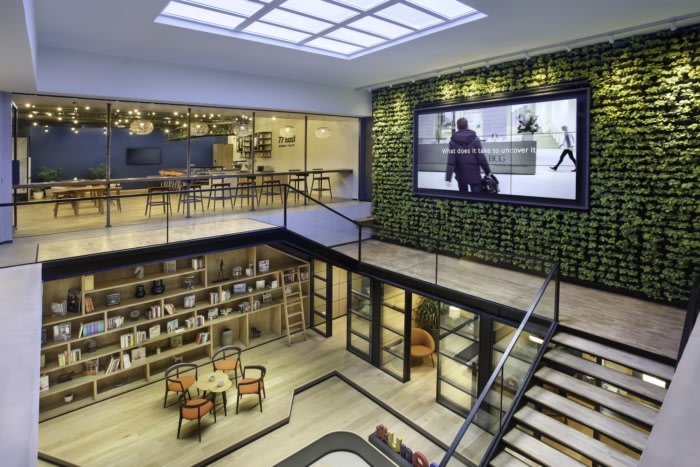 Boston Consulting Group Offices – Gurugram
Space Matrix designed the Boston Consulting Group offices to remove work inhibitors for employees using creative solutions in Gurugram, India.
The BCG UnOffice: A user-driven workplace design journey
When it comes to driving insights and sparking transformation, Boston Consulting Group (BCG) is always ahead of the curve. As a brand, they are committed to unlocking potential across organisations, societies and entire economies. To do this, BCG has identified one key enabler — the power of human potential.

Enabling and leveraging human potential thus, is the very purpose that drives the brand. When BCG wanted to design and shift to a new workspace in Gurgaon, they reached out to us to help them translate this purpose and interpret it as their workplace strategy. This marked the beginning of what would become, the UnOffice.

Embracing human potential
Since the human experience lies at the core of the way BCG functions, we knew right away that we couldn't conceptualise the space without making users an integral part of the office design journey. We conducted over 30 hours of workplace observation studies, and interviewed over 70 people from the organisation individually. We also wanted to get a good sense of how the different teams and cohorts function together and what their diverse needs are. We hosted over 100 hours of surveys, user workshops and visioning exercises that involved team members from across the organisation.

At the end of it all, we felt that we understood the nature of work and the culture that drives life at BCG. These in-depth interactions also helped us identify the specific inhibitors that were standing in the way of employees doing their job easily.

These inhibitors are:
At an individual level. The sheer diversity of the workforce called for more options in personal workspaces. While some preferred formal set-ups, others liked to put their feet up, get comfortable and work with a cup of coffee. The new office needed to make space for both these needs — and everything in between. Lots of people also felt that the old, open set-up was quite distracting when they needed to focus. The other individual inhibitor was a lack of well-planned spaces for rejuvenation and wellness.

At a team level. Of course, different teams voiced their unique needs, not all of which the old workspace was able to meet. However, almost everyone agreed that the office could do with more avenues for knowledge sharing, and a few more green spaces. They also agreed that the office needed better connectivity and more tech-enabled spaces.

At a client level. We noted a need for well thought out and better-equipped client zones. Earlier, before every client meeting, teams would spend a lot of time looking for free meeting rooms and spaces. Alternatively, bigger client events would simply be hosted at hotels or external spaces because the office lacked the necessary in-house facilities.

Introducing the UnOffice
With these insights driving us, we were able to conceptualise a truly creative workplace strategy. Of course, we introduced certain enablers to tackle and negate the inhibitors we learnt about. But we knew that we'd have to do more than just solve pre-existing issues with enablers. We'd also have to bring in 'stimulants' — spaces that would go beyond these immediate needs and actually equip people to tap into their unused potential, thus aligning the workstyle with the BCG motto.

The final result was this unique, one-of-a-kind space we call the BCG UnOffice — a space that is as far away from a typical office as possible. Let us walk you through.

Welcome experience
As you walk into the UnOffice, you will see a reception desk with a massive backdrop featuring a map of the National Capital Region (comprising New Delhi and surrounding areas). This immediately establishes a local connection with the city the UnOffice is based in. Before you even step any further in, you will experience a sense of vastness, interspersed with the heady aroma of coffee.

Once you take a moment to absorb it, you will note that several things contribute to this experience. Instead of a solid wall beyond the reception, there is a cut-out, which gives you a glimpse of the work cafe on the floor above. This is where the hum of activity and the fragrance of fresh coffee is coming from. On one side, you will see a digital wall, displaying various aspects of life at BCG. Moreover, the light fixture in the cut-out mimics a natural skylight, which further heightens the feeling of vast openness. This is something quite unlike what you would expect as you step into an indoor space.
Design: Space Matrix
Photography: courtesy of Space Matrix