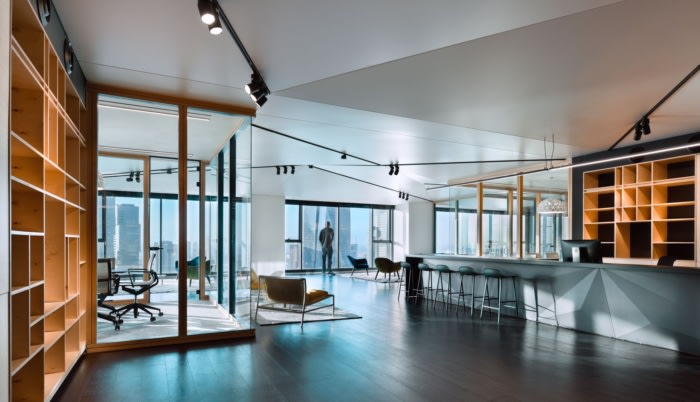 Confidential Artificial Intelligence Company Offices – Tel Aviv
Architect Yaron Eldad designed a unique office space for an artificial intelligence company in Tel Aviv, using an origami-inspired concept that includes a fabric-covered ceiling, wooden partitions, and minimalist design elements throughout the space.
Yaron Eldad – Architecture and Interior design completed the offices for a confidential artificial intelligence company in Tel Aviv, Israel.
Architect Yaron Eldad was asked to plan and design an office for a company dealing in artificial intelligence with 100 employees. The 3,200 square meter offices are spread over an entire floor in an office tower in Tel Aviv. Further to the occupation, I came up with an idea that the role of artificial intelligence is to change reality and hence the concept of the project was born – to wrinkle reality. This is how the dominant origami element was created in the ceiling space and in general."

The architect chose an elastic material, a type of fabric stretched along the ceiling and he is the one responsible for implementing the origami concept. Beyond the very unusual idea, the fabric hides all of the office's systems underneath, thus resulting in a clean look. Moreover, the same origami is spread out at different heights on the ceiling, thus creating very high areas in the space, which contribute to the sense of airiness. The only elements that are outside the ceiling origami are the lighting fixtures.

The design concept also continues at the reception desk, whose design joins and corresponds with the origami concept. The counter is dual-purpose, designed for the benefit of the reception staff and also serves as a 6 m long seat, with an asymmetric element that corresponds with the origami ceiling.

Moreover, the office space is free of unnecessary designs, it is clean and minimalist and corresponds in harmony with the origami ceiling. Black fishbone parquet was chosen for the floor.

The conference rooms were designed by Eldad, using wooden partitions, which contribute to the unique look of the office and add a slightly different aspect to it, which brings warmth and playfulness to the space. The partitions themselves also have a minimalist design, with each room characterized by a partition of a different color.

Seating areas are scattered in the space and located near the keys. While the tendency is to place the meeting rooms or offices near the huge storefronts, the architect was able to create low seating areas, and next to them in the interior, the transparent meeting rooms, where those staying in each of them enjoy the vibrant urban view of Tel Aviv. The seating areas do not hide the view from the people sitting in the different rooms.

The office was designed so that it is divided into zones. There is an area of Ofen Spice, an area of sitting areas and meeting rooms, a dining area, and an executive area, with closed rooms, a private bar and a lunch area.
Design: Yaron Eldad – Architecture and Interior design
Photography: Omri Amsalem