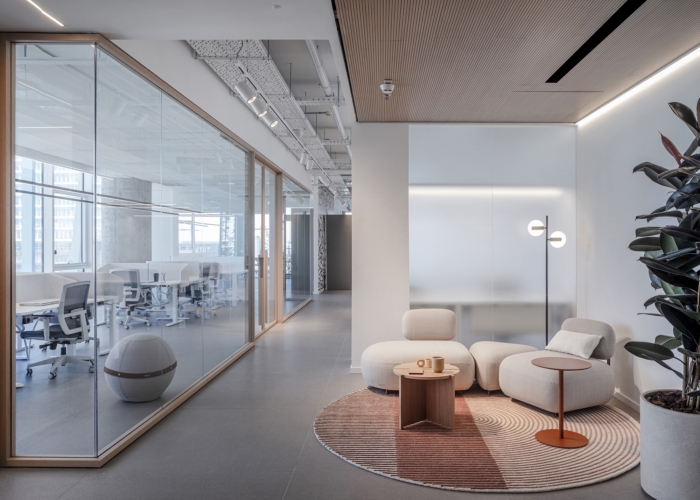 Signature-IT Offices – Tel Aviv
Studio Keren Atzmon created the Signature-IT offices with an inviting design and natural light in Tel Aviv, Israel.
Where Work Meets Comfort: Your Home Away From Home
There is something about the seam line, which allows every designer to produce, first and foremost, an internal integrity, between the space and the person commissioning the work. 800 square meters of high-tech offices in the heart of the metropolis of Tel Aviv.

The mix of employees in the company is an inseparable part of the design being and the creation of design harmony: an unexpected combination between ultra-Orthodox women and high-tech men.

The planning challenge was to create a dialogue not only between the employees of the office, but also and especially in the perception of the space that contains its occupants, to create a space that is temporary, devoid of design patterns and trends of the high-tech world on the one hand, and on the other hand, to create the flow between refined natural materials in soft colors, devoid of "pretensions" and noise, and an office that is also a home for those who sit there for long hours. A pleasant, comfortable house, not noisy, but at the same time, pulsating, kicking and breathing.

The office is built in a kind of planning layers that create the interior division of the office with natural materials, wood, exposed concrete and lots of greenery.

The perception of space in any project begins with studying the user's experience and its accessibility, the creation of the concept is a product of studying that experience in the perception of space.

Every project is a whole world in going down to the smallest details, listening and understanding human engineering and making the office a good, fun and pleasant place to stay. The office and the home and the creation of versatility between them has sharpened a lot lately, so we put a lot of emphasis on creating a sense of completeness in the subtle dissonance between the two.
Design: Studio Keren Atzmon
Photography: Yoav Gurin