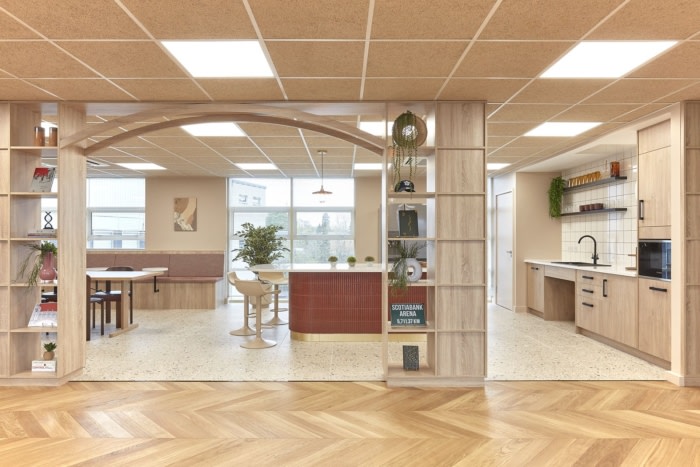 BenchSci Offices – Cambridge
Trifle* created a warm and welcoming space with thoughtful color for the BenchSci offices in Cambridge, England.
Our project for BenchSci saw a empty 70s shell transformed into a beautiful, inspiring home for our Canadian client's first international office.

BenchSci's mission is to exponentially increase the speed and quality of life-saving research and development with the use of biomedical AI. They strongly believe in hiring the best people and providing the best working environments to succeed in their goal. They wanted to have 'the coolest office in the UK'. One that would support their staff and demonstrate their values to attract new talent.

The brief was to space plan and design a welcoming and functional destination for teams operating in a virtual-first work style and within a hybrid model of working. Aesthetically the design had to reflect BenchSci's brand values within a workspace that staff would want to travel to; an office that would nurture and inspire; a destination.

Set over two floors – ground and second, we struck a balance between focused desk space, as well as areas for virtual meetings and communal settings for drop in work and informal meetings. It was incredibly important for this to act as BenchSci's UK base of operations.

On the ground floor we created a functional, communal area to host team days and other similar internal events. On the second floor, a multipurpose space was require to support different working styles. Another important aspect for BenchSci was culture building, especially through the sharing of food.

A welcoming, open-plan lounge and kitchen area greets visitors upon entry to the second floor. The communal kitchen area encourages multiple social scenarios and caters for all. A generous central island also doubles up as a meeting area. Co-working desks and focused desks with individual acoustic paneling are positioned centrally in the space, whilst meeting pods, phone booths, a zen room and boardroom are situated at the perimeters of the space giving the feeling of a much larger area.

BenchSci were keen for the design to be rich in detail. They wanted a space that reflected their culture (curious, driven, caring and smart) and their Canadian heritage but also one that felt like their UK home.

Canadian nods can be found woven through the styling with whimsical nods to Toronto.

We created a 'social garden' on the ground floor, inspired by the natural spaces of Cambridge. Lots of greens were layered in the design and faux plants adorn the space as it was acknowledged that the hybrid working environment may not help plants to thrive.

On the second floor, a warm base palette was created with soft peach coloured walls, terrazzo tiles in the kitchen and warm FSC wooden flooring. This is grounded and enriched further with the use of copper, burgundy and bronze with accents of blue and is bought together with coordinating fabrics, textures, accessories, and paints.
Design: Trifle*
Photography: Jack Harrison-Bunning