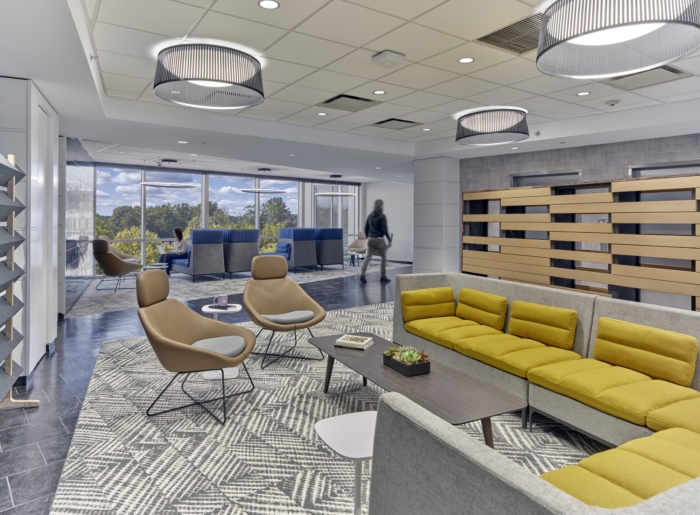 AXA XL Insurance Offices – Exton
NORR utilized the view and selected intentional furniture to create the AXA XL Insurance offices in Exton, Pennsylvania.
The Hankin Group, in conjunction with AXA XL Insurance, was looking to reduce their footprint and implement a new hybrid workplace environment. The renovation of the 3rd and 4th floors of their existing office space at 505 Eagleview Boulevard, totaling approximately 65,500 sf, required NORR to facilitate AXA XL's rethinking of their current workspace.

NORR's design team worked closely with the Hankin Group and AXA XL to ensure the design incorporated the desired functionally, seating counts, space types, and adjacencies. The new hybrid model kept much of the existing construction and transformed it into non-dedicated desking, flexible meeting spaces, collaboration spaces, enclosed conference rooms and training rooms. Using digital modeling and graphic presentations, NORR clearly communicated layout, design concepts, and finish materials. The budget conscious design repurposed existing rooms and spaces while providing a refresh to outdated spaces that included replacing office fronts with glass, an upgrade to the lighting and a ceiling treatment for improved acoustics and visual interest.

NORR's approach to this project was founded on analysis, discovery, critical thinking and creativity. In addition, NORR understood this was a fast-track project that required an integrated delivery of architecture, interior design and engineering services. The revised workplace design provides AXA XL's employees with the desired flexibility of a hybrid workplace environment becoming more common due to the impact of COVID-19.
Design: NORR
Photography: Don Pearse