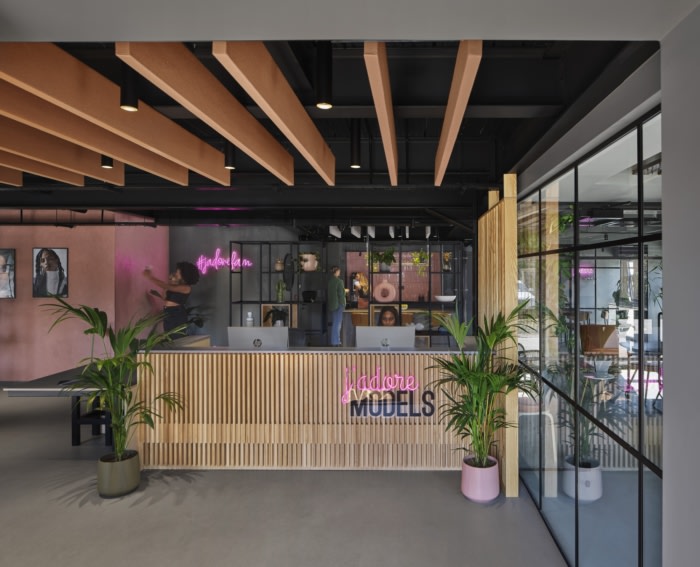 J'adore Models Offices – Manchester
Workshop Design Studio completed a stylish, playful, and professional space for the J'adore Models offices in Manchester, England.
Workshop Design Studio has completed the new Manchester HQ for J'adore Models – a 10-year-old, Manchester-based agency, with a 20-strong internal team and over 250 models on their books. The agency's strong commitment to boundary-pushing diverse and inclusive representation, together with its team's eye for spotting interesting models and seeing their potential, has given them a unique space in the marketplace and an impressive global client list, from the catwalk to the high street. The company was set up by sisters Sam Fry and Jess Ludlam and describes itself as 'a grassroots company from the heart of Manchester, offering skilled, hands-on management of global talent and a premium worldwide client base.'

Workshop Design Studio was involved from the very beginning of the new HQ project, once J'adore Models' founders had located a potential building to suit their needs. That building was in the Ancoats area of Manchester, where the agency was already based and was determined to stay, in order to be true to its roots, show its continuing commitment to the area and retain links to Ancoats' great industrial past, especially its heritage in textile design.

The core requirements of that brief were to create an environment with a real 'wow factor' that would be on a par with the offices of the agency's international retail clients. Both J'adore Models and Workshop Design Studio considered the move a unique opportunity to create an exceptional space to embody and amplify the brand and its values, as well as being a space people were excited to visit and work in, both enhancing staff wellbeing and helping the agency to continue to recruit the best talent, whether onto its team and onto its books.

The client also requested that the back-of-house space should be as high-quality as the front-of-house, so to ensure staff felt truly valued. For the interior aesthetic, the brief called for a spacious and relaxed feel with a New York loft/industrial vibe, punctuated by natural interventions, from planting and timber to natural materials such as wicker and rattan.

The front-of-house was designed to be more of a co-working environment and creative café space, with background music always playing, including classic and brand-new tracks. The reception was to be high-impact and create a strong impression for visitors on arrival, whilst the space-planning had to incorporate areas to meet potential clients, interview rooms directly adjacent to the arrival and waiting area and an open kitchen as a central hub and to provide refreshments for visitors.
Design: Workshop Design Studio
Photography: Daniel Hopkinson, Gunner Gu